Kajabi Integrations
Sep 06, 2022
Kajabi is a powerful online course platform you can use to run your business from in and of itself, but part of any platforms success is how well it works with other top tier services. Integrations with other platforms can be useful to collect and share data for crm apps, analytics, capture leads, as well as provide credit card processing or collecting/sharing other online content with a program like google sheets. Kajabi also has many built in integrations that allow you to easily connect with other platforms and services.
In this blog post, we will discuss the different built in Kajabi integrations and how you might be able to integrate Kajabi to an application that isn't on that list.
Kajabi Integrations: Email
Kajabi has built in integrations with 5 popular email marketing platforms, Aweber, Mailchimp, Active Campaign, Convert Kit, and Drip. When you connect your Kajabi account to one of those through the Kajabi integrations tool, you get the ability to link your Kajabi forms to that third party contact list.
You do this by getting a code from your third party provider for and adding that to the specific form you want to use to send data to that provider. What that code does, is pass the name and email address from all new form submissions to that third party. This makes it so you don't have to manually update your list in that application.
If you want to pass more data than the name and email address to the thrid party then you will need involve a third party like Zapier to pass on that data instead of using the built in integration tool.
While each of the programs listed above have their unique features; the deliverability, open rate, automations, and email design features of Kajabi are on par with these platforms. Kajabi's email marketing functionality might work very well for you, my recommendation is to really consider the added value you expect to get from using one of the email apps listed above instead of the built in Kajabi email system.
Now onto the set of integrations that are focused on analytics.
Kajabi Integrations: Analytics
There are three different integrations that you can use for analytics, Google analytics, Segment and Facebook pixel.
Segment
I don't have any experience with Segment but from what I can tell it is a customer data platform (CDP) that helps you collect, clean, and control your customer's data. Kajabi makes it easy to integrate with Segment and start sending customer data through their system.
Google Analytics
Google Analytics is a free web analytics service offered by Google that tracks and reports website traffic. Kajabi has a great integration with Google Analytics that allows you to easily connect your Kajabi account and start tracking your website traffic as well as other statistics.\
My two cents. Using Google Analytics can be a bit daunting at first. Whether you plan on using it extensively or not, it is a good idea to get your account set up so you can connect it to your Kajabi and have your data be tracked. Then if it ever becomes important to you to see your traffic, it will be there.
Facebook pixel
The Facebook pixel is an analytics tool that allows you to measure the effectiveness of your advertising on Facebook. Kajabi has great integration with the Facebook pixel that allows you to easily connect your Kajabi account and start tracking your advertising effectiveness.
I have the same opinion here, connect your pixel as soon as you can so it can start collecting data. Then if you ever need it in the future for an ad campaign, it will be there.
Kajabi Integrations: Miscellaneous
There are 2 other built in integrations that can be leverage in Kajabi. Zapier and Clickfunnels
Zapier
The Zapier connection will allow you to easily connect your Kajabi account to your Zapier account. Zapier is an online connection tool that facilitates connections to other application. It is designed to be the connection for you when there isn't a built in integration. This is what you will need to use if you have a need that isn't met with the built in integration options.
Each Zapier connection is built to complete a specific task. So if you hear that Zapier will integrate Kajabi to google sheets, you need to be aware that it might not complete the task you want it to do in google sheets. The takeaway here is that you need to research on Zapier's website to see if the connection exists to do the specific task you have in mind.
Clickfunnels
Clickfunnels is an all-in-one sales funnel builder that allows you to easily create sales funnels and integrate them with Kajabi. With Clickfunnels you can easily connect your Kajabi account and then your Kajabi offers will be available to you in the Clickfunnels platform.
How do you connect an integration?
How do you actually connect a custom integration to Kajabi? I will give you an example with ActiveCampaign. To connect Active Campaign to your online forms you first have to connect it to Kajabi, you do this by following the steps below.
To connect Active Campaign go to your settings tab, from the Kajabi dashboard: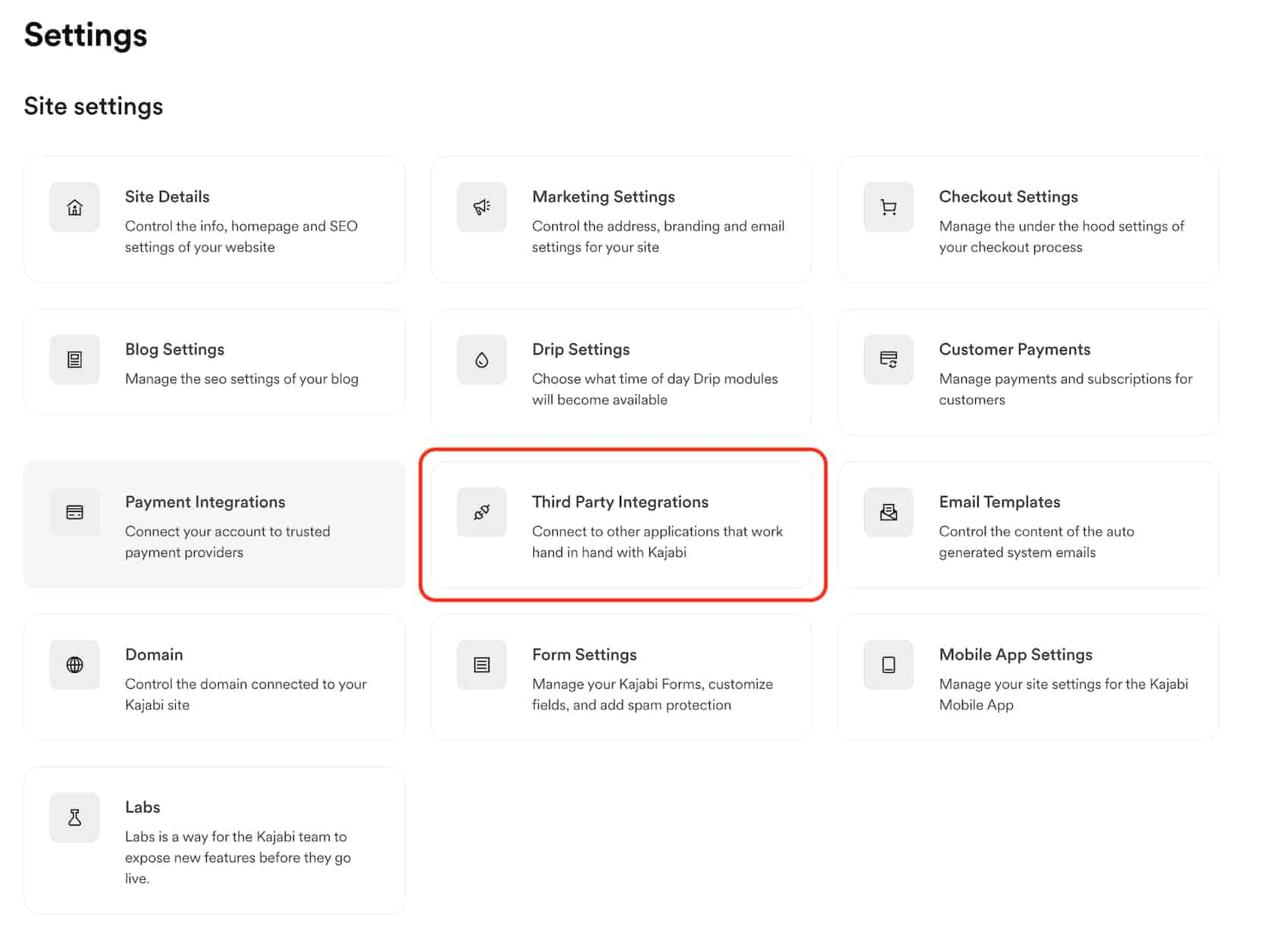 Then click "Third-party integration" bringing you to this page: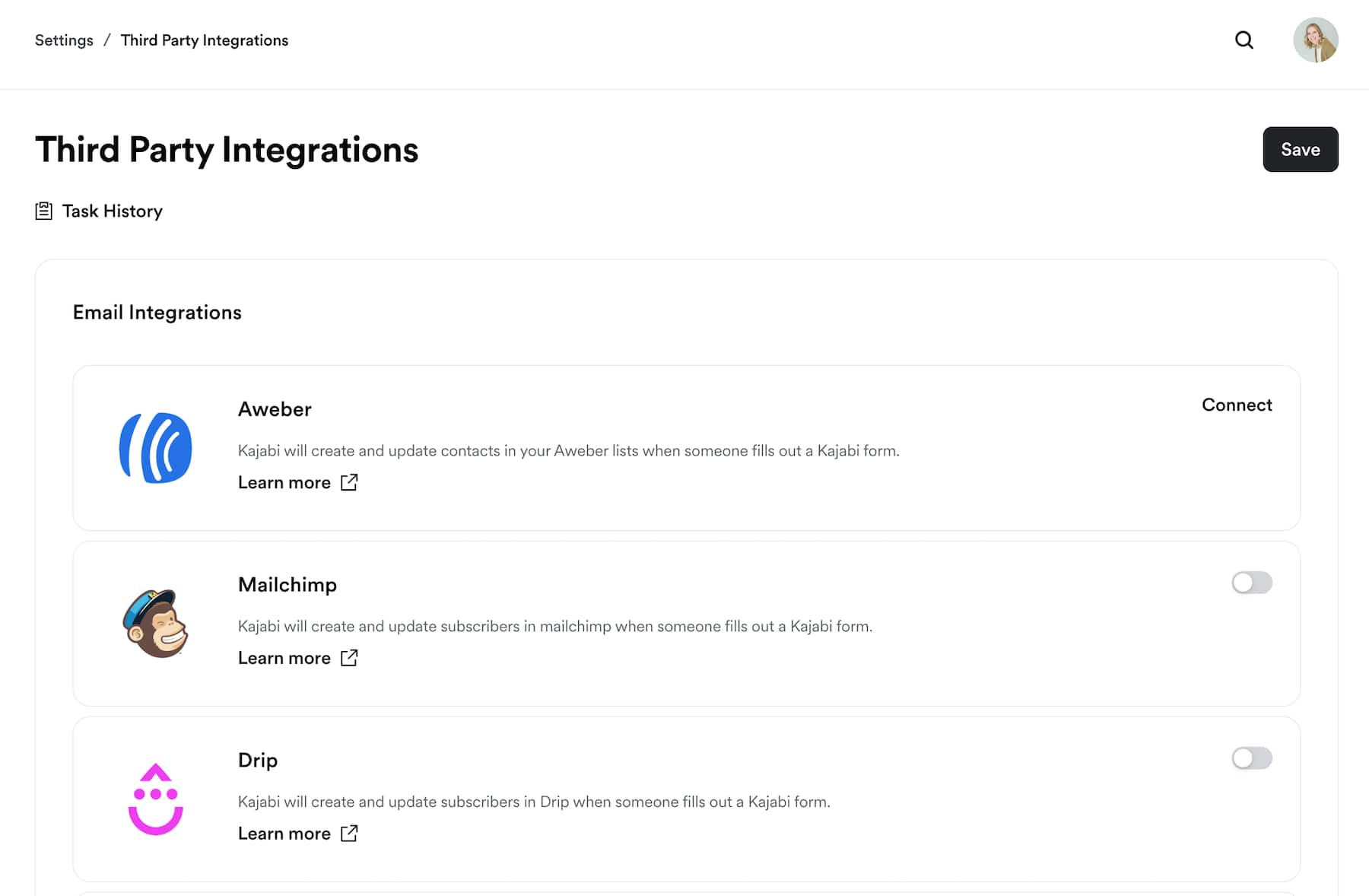 After you click on (switch the toggle to green) Active Campaign it will ask you for your API URL and API key, you can find these in your Active campaign account by clicking on "settings" and then "developer". Copy your API key and URL and paste them into Kajabi.
Now that the integration is made, you need to active whatever form you want to use to collect and send the name and email data to Active Campaign. This is done in the Kajabi forms, go to "marketing" and then "forms":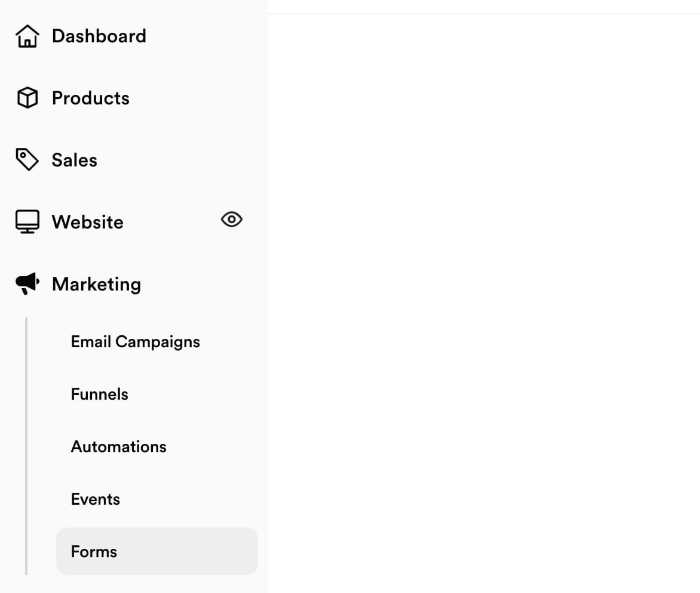 Once you click on the form you want to connect check the box that says "send the contact to a third party email provider" and then click on Active Campaign (or whichever email service you have connected). If the email service you want to use isn't there then your integration didn't work and go back to find your mistake in copying the API key and url.
You need to connect this form to a "list" in Active Campaign using the list id. To find your list ID navigate in Active Campaign to the list you want to connect and in the URL you should see the list ID, you just need the number, so in the case of the screen shot below, "1".

Putting that list id number into the form in Kajabi will make all the name and email data that form collects to be added to that list in Active Campaign.
All the integration how-tos are in the Kajabi help-center if you need help.
Kajabi Integrations: The Bottom Line
Kajabi is a powerful all in one platform that can be used as your sole tool or if you want to use other platforms can easily integrate with the ones listed in this article. Where there isn't a built in integration for what you want to connect, you can use Zapier to connect Kajabi to many other applications.
The best way to get to know if you will need to integrate Kajabi with other platforms or if you can stick with what Kajabi offers and leverage all of its functionality is to try it out and see for yourself what you can do with it. You can get a 30-day free trial here and I will give you 3 great bonuses to get off to a great start. You can learn more about the bonuses I give my referrals here.
JD
Kajabi Expert
Are You Interested in Kajabi
but now isn't the right time
Leave your name and email below and I will notify you when they run their next promotion.
We hate SPAM. We will never sell your information, for any reason.