Kajabi Email Marketing
Jul 14, 2022
Kajabi includes the same powerful email campaign platform in all of its pricing plans. For an online business, email marketing is one of the most important functions of your business. Kajabi has a lot of great email marketing features that put it in league with all the major email providers. Here are some of the key features of Kajabi's email campaigns:
You can segment your list by tags and send targeted emails to different segments

You can automate your email marketing with Kajabi's robust automation rules engine

You can create beautiful email templates with Kajabi's integrated editor

You can track opens, clicks, and unsubscribes for every email you send
With Kajabi, you can easily create and send beautiful email campaigns that will engage and convert your subscribers.
Email Campaigns
There are two types of email campaigns in Kajabi, email broadcast, and email sequence. A broadcast is a single email that can be sent immediately or scheduled for later. A sequence is a series of emails that will be delivered over a set period of time.
First, log in to your Kajabi account and go to the Email Campaigns tab. From there, click on the "Create New Campaign" button then choose email broadcast or email sequence.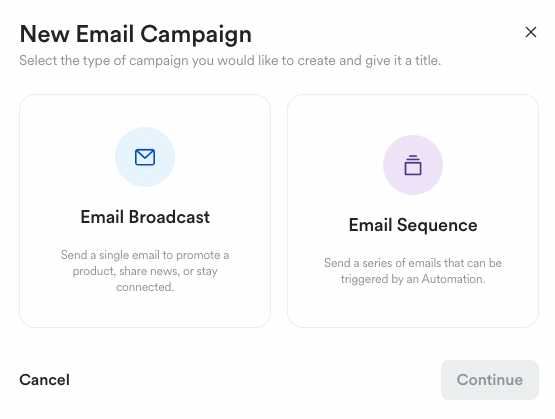 Next choose a template and then enter a name for your campaign. Kajabi offers a few different templates to choose from, or you can create your own custom template to use over and over again.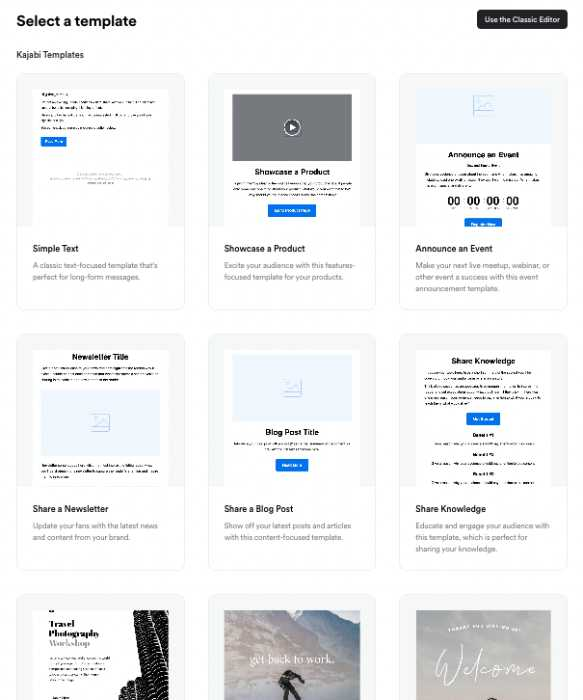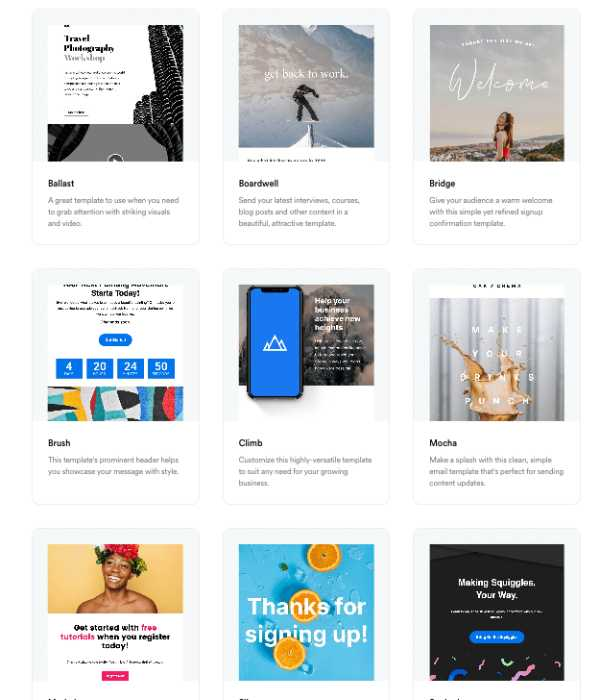 Next, add your recipients. Kajabi has a powerful selection tool that lets you filter your list based on existing tags and pre-saved segments. Other filter options are contact, activity, email engagement filters, form, product, offer, coupon, event. Something I especially like is being able to filter based on if someone has opened any email in the past x number of days or clicked a link in a specific email.
Now it's time to write your email. Kajabi uses the same style of editor that you use to edit websites and landing pages. This makes it easier to learn as you are familiar with the tools and processes from working in other areas in your Kajabi.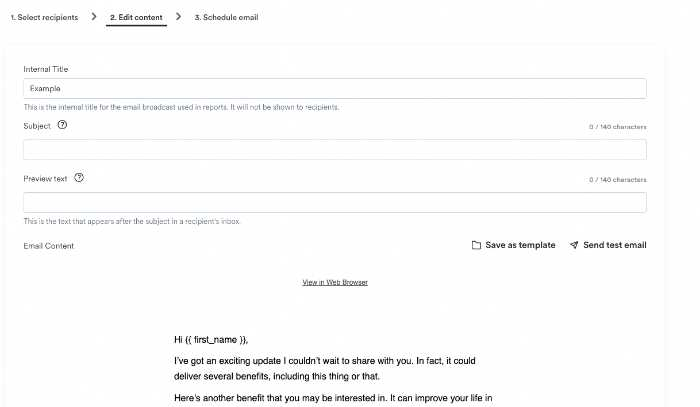 and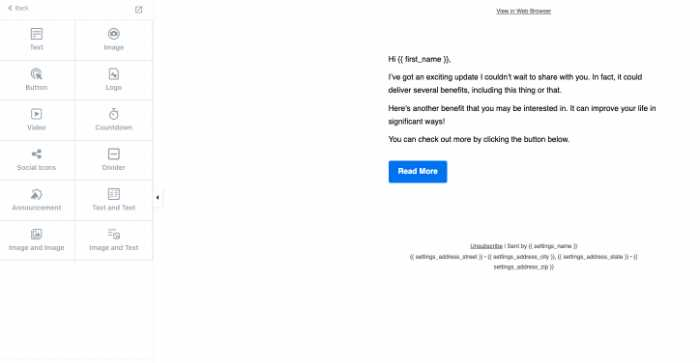 When you're done, click on the "Schedule" button to choose when you want your email to be sent. Kajabi will send your email at the specified time, or you can choose to send it immediately.
Email marketing with Kajabi is simple and effective. With just a few clicks, you can create and send beautiful emails that will engage and convert your audience.
Using Email Campaigns
Email marketing is an essential tool for any business looking to engage with its audience. There are several reasons why email is such an effective marketing tool. First, email allows you to reach a large number of people with your message quickly and easily. Second, email is a very personal form of communication, which allows you to build a relationship with your subscribers. Finally, email is an affordable way to reach your target audience without breaking the bank. Your primary focus should be on creating engaging content in every email marketing campaign.
So, what should you write in your emails? The answer will vary depending on your business and goals, but in general, you should aim to provide value to your subscribers. This could include helpful information, tips and advice, exclusive discounts or deals, or access to valuable resources. By providing value to your audience through email, you can build a loyal and engaged subscriber base that will be more likely to support your business in the future.

Kajabi Email Analytics
Kajabi provides easy-to-read analytics so you can quickly see how your emails are performing. The email report includes data on:
Sent

Delivered

Open rates

Click rates

Hard Bounced

Unsubscribed

Kajabi also offers a variety of ways to automate your email marketing, making it easy to re-target subscribers who haven't opened a recent email, which is a great way to increase open and click rates for an email.
Why Choose Kajabi for your Email Marketing
Kajabi is an all-in-one platform that may give you all the tools you need for your business. If you are going to use them for a website or landing pages, a digital course or membership, then there probably isn't any reason why you can't also use its email marketing tools also. The Kajabi email marketing feature will deliver all the core marketing tools you can get from other third-party providers and is seamlessly integrated into the full suite of Kajabi features. There is no quota for email campaigns each month, so you will be able to send as many marketing emails each month as you want.
Kajabi email marketing is free to try, you can sign up for a 30-day free trial and see if Kajabi will fulfill all the marketing efforts of your online business. I help people get started in Kajabi all the time and will give you 3 great bonuses for signing up to the 30-day trial with one of my affiliate links. If now is the right time for you to try out Kajabi email marketing, then click the button below and learn about the 3 bonuses I will give you and sign up.
JD
Kajabi Expert
Are You Interested in Kajabi
but now isn't the right time
Leave your name and email below and I will notify you when they run their next promotion.
We hate SPAM. We will never sell your information, for any reason.