Kajabi Promotions - Special Offers - Discounts: What is the Best Deal Right Now?
Nov 01, 2022
You can always get a 14 day free trial of Kajabi from their website. But there are better ways to start using Kajabi. You don't need promo codes or a Kajabi coupon code (by the way those don't exist, Kajabi promotions are open to anyone and you don't need a coupon code) the best way to start using Kajabi is through a Kajabi affiliate, and there are lots of affiliates.
Affiliates can always give referrals a 30 day free trial (better than the 14 day trial from Kajabi's website) so even if there isn't a big Kajabi promotion going on, it is best to sign up through an affiliate.
Kajabi has been having three or four big promotions a year lately and they use their affiliates to spread the word and provide access.
Kajabi Affiliate
A Kajabi affiliate, also known as a Kajabi Partner has access to all Kajabi promotions and receives a commission from Kajabi for each referral they sign up (see affiliate disclaimer at the bottom of this page). Because they get paid some affiliates will give you bonus's of support or courses or templates if you choose to sign up with their link.
The bonuses I give my referrals are:
30-minute strategy session
One-on-one coaching and support during your trial
Group coaching and support for 2 months from when you sign up
If you want to get in on a Kajabi Promotion you need to sign up through an affiliate, any bonuses the affiliate may or may not give you are un-related to Kajabi and not part of the promotion.
Current Kajabi Promotion
The current Kajabi promotion will always be first on the list. I keep all the past promotions up so you can see what kind of deals Kajabi has done in the past. Some Kajabi promotions are a an extended free trial, some aren't free but give you a discounted price for a set period of time, and almost always, they include cool features like extra support or training material from Kajabi.
As you scroll below, pay attention to the dates these promotions were live, I don't want to confuse you or make it seem like all of these promotions are available right now. Regular pricing based on your plan applies after the promotion. You can learn all about the different pricing plans in my article about Kajabi Pricing Here.
60-Day Free Trial with extras
This trial is available between December 1st and 20th --- After December 20th, the promotion was available with a 30 Day trial until late January ---
On top of getting access to the 60-Day free trial and Kajabi extras, if you sign up with the link below, you will get access to my affiliate bonus. 1 30-minute strategy meeting, 30 days of coaching and tech support over Voxer, and 2 months access to my Kajabi support group where I have live office hours every week to help out my referrals.
This promotion is over - click here to get a 30 day free trial
After clicking the link, you will be on a Kajabi page and just need to press the "Join the Challenge" button to sign up.
What is Kajabi
Kajabi is an all-in-one platform that you can use for the follow functions of your business:
Website
Landing pages
Blog
Funnels
Digital courses / Membership sites / Community
Coaching packages
Email Marketing
Events
Checkout pages / Coupons / Affiliate sales
Automations
Customer management
Analytics
Podcast Hosting
Kajabi has helped over 100,000 businesses sell over $3.5 Billion in revenue. To learn more about what Kajabi is, click the link to read my article: What is Kajabi?
Past Kajabi Promotions
30-Day Trial with 5-Day Live Group Coaching
This promotion ran from September 19th to October 2nd. With this promotion you got 30 days of Kajabi for free plus 5 days of live group coaching with Tina Tower. Group coaching is a great way to learn from what other people are going through and get coached yourself.
3 Months of Kajabi for $99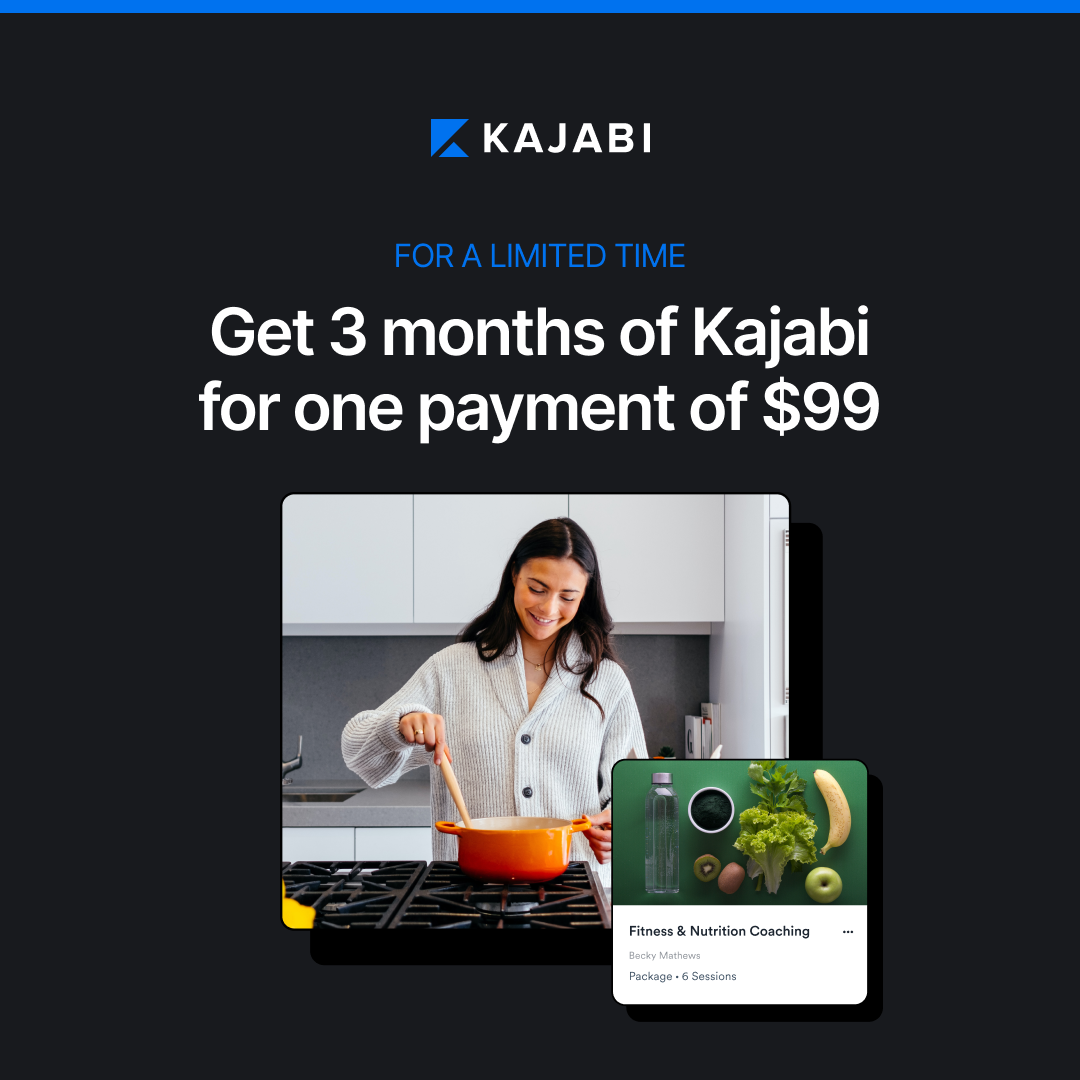 This promotion is available between August 1st, 2022 and August 31st, 2022
5 Weeks of Kajabi for $5
This Kajabi promotion ran from May 31st 2022 to June 7th 2022
A special feature of this promotion is that each week you received daily emails with a 5 minute task to help you move forward each day setting your business up and selling your first product.
The Biggest Tuesday of the Year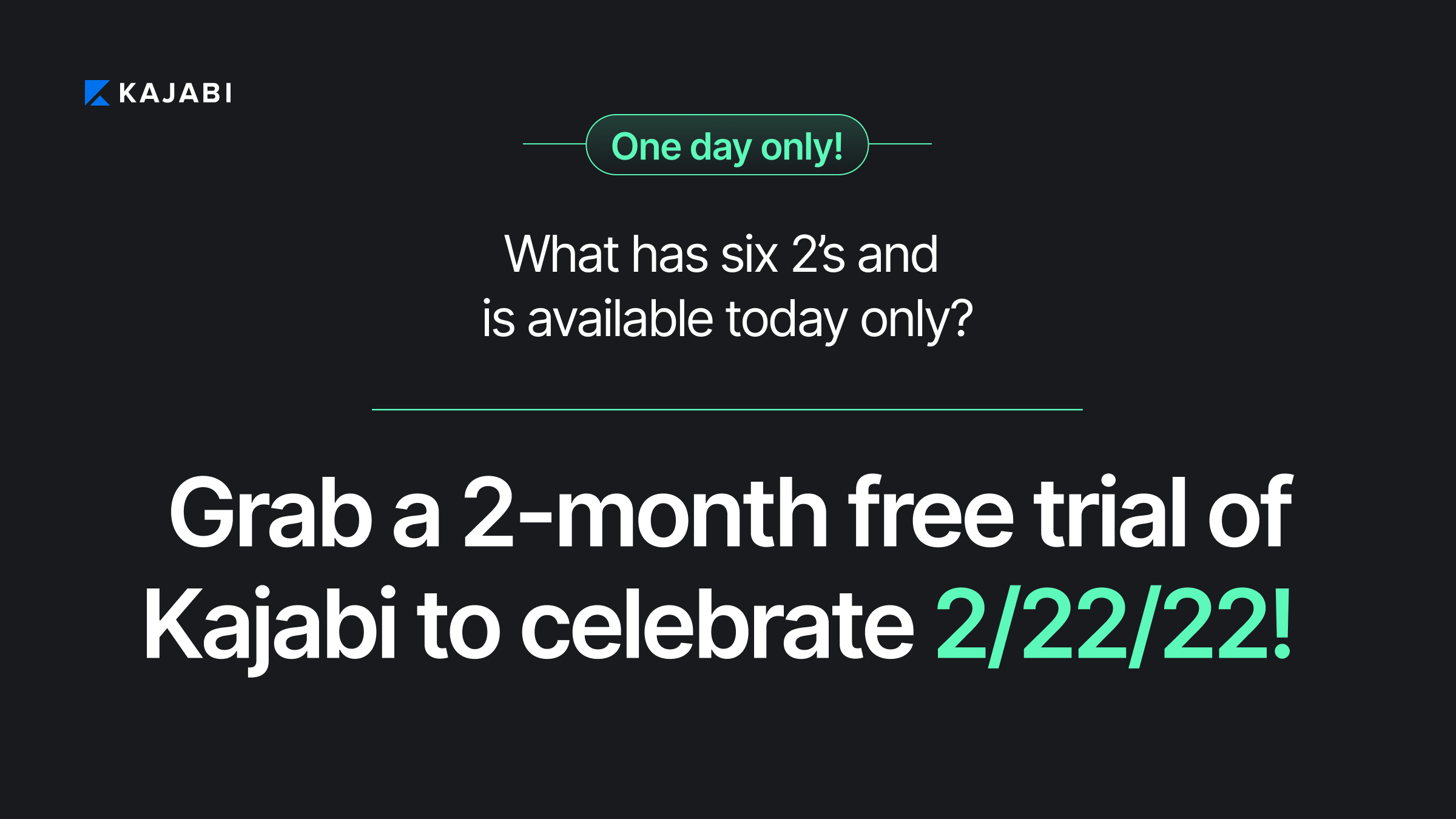 This Kajabi promotion was only available on February 22, 2022
This was a fun play on words...numbers and was a really great deal.
Idea to Income Challenge 2022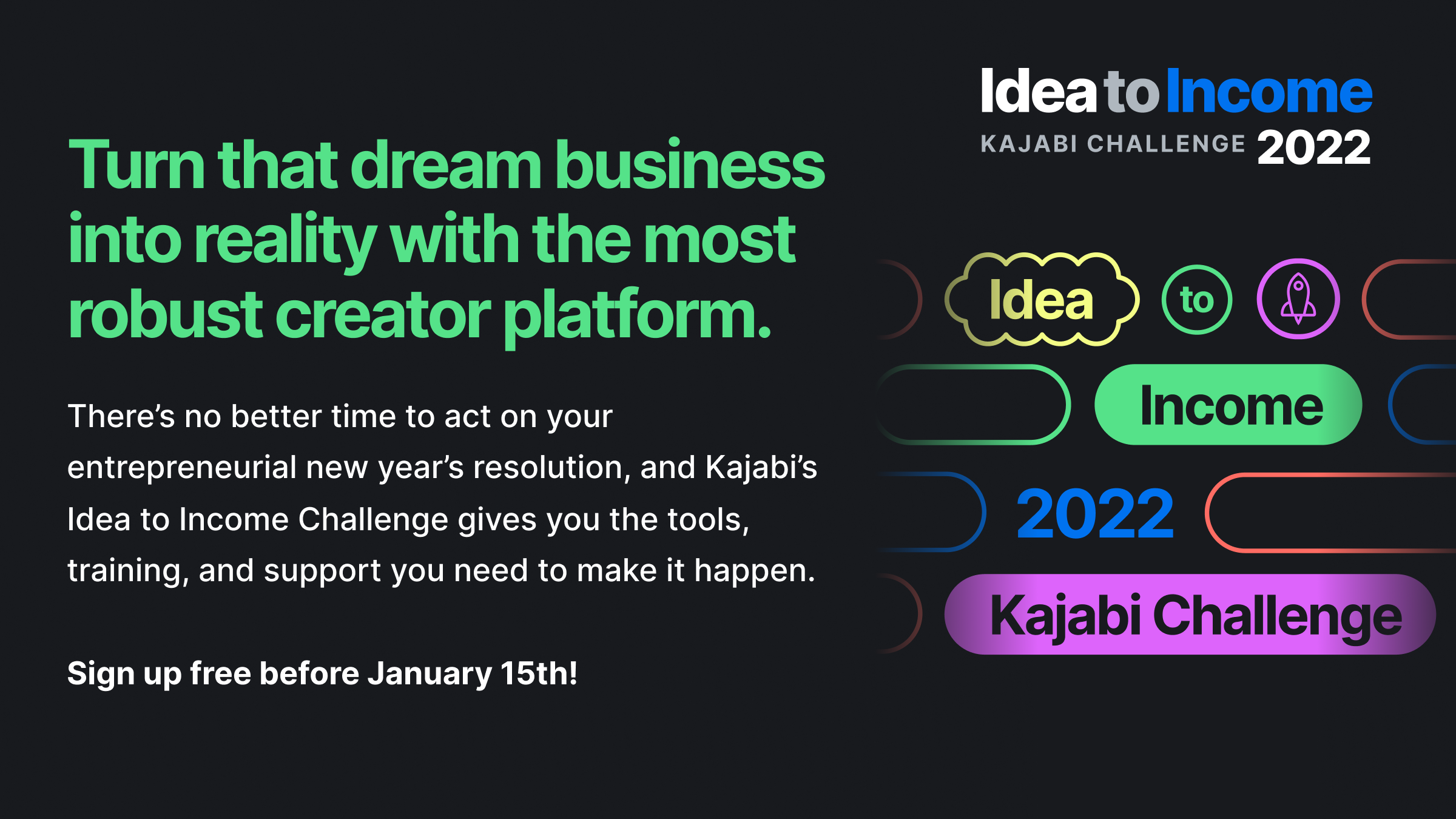 This Kajabi promotion ran from January 5th 2022 to January 18th 2022
This promotion included a special training course that taught you what features of Kajabi to use and how to use them to turn your idea into income.
Coach Accelerator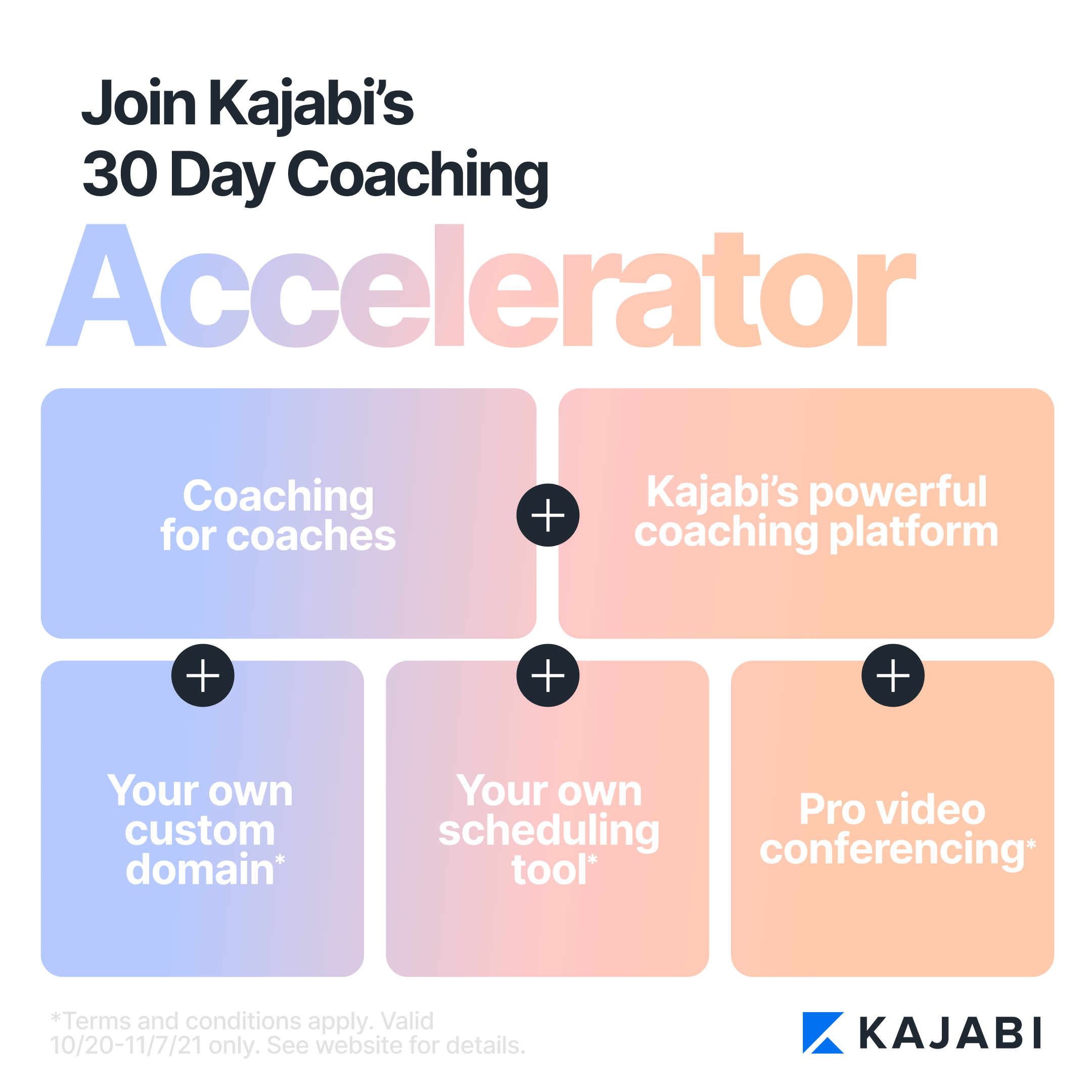 This Kajabi promotion ran from October 20th 2021 to November 7th 2021
This promotion was to celebrate the launch of the coaching product in Kajabi. There were a number of special bonuses you got for signing up included a prepaid Visa card to pay for a video conferencing service and a domain.
Sign Up with Kajabi Today
If now is the right time for you to sign up for Kajabi then take advantage of this limited time promotion and get 3 months of Kajabi for $99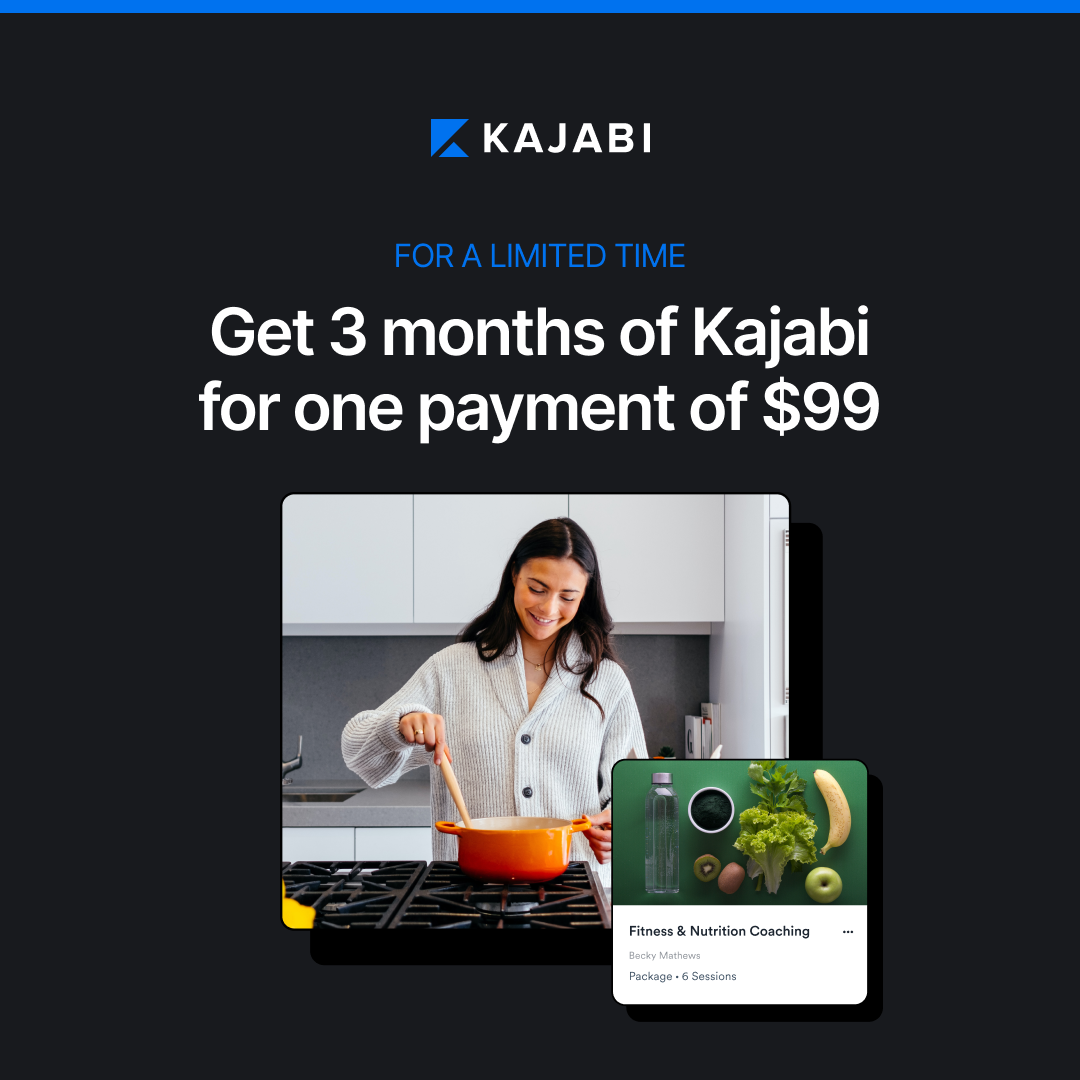 This promotion is available between August 1st, 2022 and August 31st, 2022
Click Here to access this Kajabi Promotion and my affiliate bonuses
I help people get started in Kajabi all the time. If you sign up with one of my links on this page, I will give you 3 bonuses to help you get the most done during your promotional period. The goal is for you to be able to decide if Kajabi is right for you before the promotion is over.
First
I will give you a 30 minute strategy session. In this session you tell me what you want to achieve in Kajabi and I will give you a tour of the platform and show you what to focus on first and what to ignore
Second
We will connect on Voxer and I will give you one-on-one support and coaching. You can ask me strategy questions like what features to use and how to connect them; and technical questions like how do I position this image on the page. You get this Voxer support for 30 days.
Third
You get 2 months access to my support group where you can get weekly coaching and support in a group setting.
I would love to help you transition your business into Kajabi. If this kind of support sounds like something you want, then click one of the links on this page and sign up.
JD
Kajabi Expert
Are You Interested in Kajabi
but now isn't the right time
Leave your name and email below and I will notify you when they run their next promotion.
We hate SPAM. We will never sell your information, for any reason.