Kajabi Community and Vibely
Sep 26, 2022
Kajabi Acquired Vibely
Kajabi recently announced that they have purchased Vibely and will be completely overhauling their current community feature. Vibely makes it easy to create communities that offer exciting group challenges, chats, one on one calls, live meetups, courses, mastermind programs and SO much more! This is a very exciting move for Kajabi as it's current community product is low on features.
The word from Kajabi is that the new community feature will be coming to all users in early 2023. I will keep this page updated as I learn more about what will be coming and what we can do with it!
There have been some live's in the Kajabi Facebook group showcasing some of the new features Kajabi is going to be able to do with Vibely as their community platform. If you have a membership product, this is going to be amazing for you.
Here are some of the Key features I've seen or heard of:
Live stream right from the community platform
Gamification
Public and private access
Kajabi and Vibely
Live stream right from the community platform
In the new Kajabi community, you will be able to live stream to your audience without using zoom or any other third party app and once you're done, the recording will instantly be available and posted in your community. No more processing the video and waiting for it to upload, it just goes straight into the platform and is ready to share and comment on.
Gamification
In the new Kajabi community, you will be able to set rewards and points for completing challenges. Members will be able to see each others levels and cheer each other on. I'll have more to say here when I learn more about it. Gamification can be a great way to motivate your group and increase participation.
Public and Private Access
Some people have strong feelings against Facebook that keep them from using the platform. But Facebook can be a great way to bring cold traffic into your audience and warm them up for paid participation. The new community with Vibely in Kajabi is going to give you a space for engaging with your audience, like you would on Facebook, before they become paying clients. I don't know the intricacies of how this will work yet but when I do, I will put the details here.
Kajabi's Current Community Feature
****Everything below here will become obsolete with the Vibely community updating coming to Kajabi in early 2023.
Kajabi has a community feature that can be used as a standalone product or as a feature of a course or membership offer you have. It allows you to connect with your customers, exchange ideas, learn from each other and grow together. But does it have the features you need? In this blog post, we'll discuss what the Kajabi "community" feature is, how to set it up and how it works. We will also answer some common questions about what the Kajabi community product can and can't do.
What is the Kajabi community?
The community product is a simple forum where your customers can connect, and exchange ideas. It is especially valuable if you offer online courses, as it gives the members of that course an easy way to connect without leaving your Kajabi environment.
It can be divided into different forums, each dedicated to a specific topic. There is also the feed, where all the topics are compiled in chronological order.
The community owner can set topics for people to discuss as well as create posts for the entire community to view, members can do this as well. There is also an ability to direct message someone in the community. Direct messages started in the community are sent via email to the member and then the conversation can continue outside of Kajabi via email.
The main page of the community looks like this:
What are the main features of the Kajabi community?
There are a few main features of the Kajabi community.
Community Feed
The "feed" section is where all the topic posts are compiled into one forum in chronological order. You can scroll through to find something that interests you, or use the search function to find specific posts.
The feed includes:
The title of the post

The name of the person who made the post

The date that the post was made
You can also "like" or "comment" on a post, as well as do other things such as unfollow, delete or edit.
Organized Topics for discussion (by the community owner)
As the community owner, you can set up topics to help organize the forum, your topics can be edited at any time. Community members can then go into topics and post in the same way they can do in the general feed. A topic's main purpose is to set up a space where community members can talk about a certain things without the distraction of posts about other things.
Side Bar
In the community you have an area designated as the side bar. This is a great place to put some community guidelines for new members, cross-sells or other promotions, or links to your main course or membership site.
Direct Messages
By clicking on the profile picture of a post, and then clicking on "send message" members can type a message to be sent only to that member. This message is sent via email and starts the ability for back and forth email between the members. Through this feature, members can start private correspondence.
How can I set up a new Kajabi community?
The community feature is a product, and as such it uses up one of your available product slots for your plan. The product quota is 3 for basic, 15 for growth and 100 for pro. Check out my article about Kajabi pricing if you want more details about that.
First
Go to the products tab and click community
Second
Click get started and follow through all the easy setup Kajabi has you do.
On the back end it should look like this, minus the draft warning at the top.
Your customers will see this:
What can I do with my new Kajabi community?
Some of the fun things you can do with your community are:
Publicize offers
You can post new offers you have made directly in your community. Which is great if you want free advertising to a hot audience especially if it is an engaged community.
Host challenges
You can post new offers you have made directly in your community. Which is great if you want free advertising to a hot audience especially if it is an engaged community.
Topics
You can set topics for people to post in. Topics are great for splitting up the conversations or making "polls" because Kajabi cannot do that in-house.
DMs
By clicking on a person's profile picture you can send them a direct message. This is useful if you want a private conversation with just one person.
Youtube live streams and more
There are also more things you can do in your community, including embedding Youtube live streams or searching for specific posts.
How do I use my new community?
As the owner you get into the community from the Kajabi community setting page under products. Here you can set new topics, or adjust the side bar text. You enter your community to post and interact with your members by clicking on the "go to my community" button: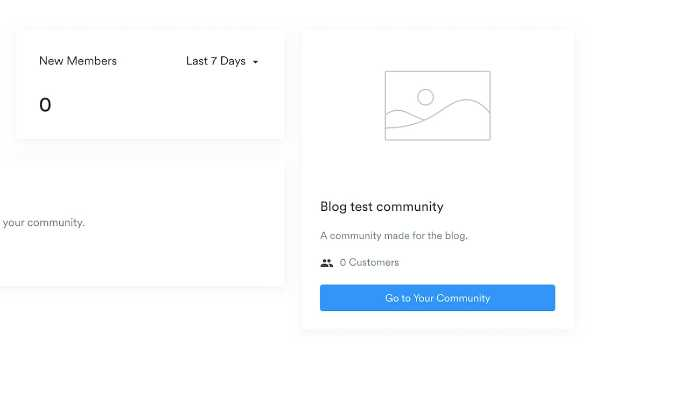 From there you can:
Create a new post by clicking on the "write something" button

Browse the feed for new posts.

Access the topics section.

Search for a specific post using the search bar.

Send a member a direct message
How does it look from the member's side?
The member interface is very similar to the admin interface, (when you click on the go to my community button) with a few exceptions. members can do all the things you can but create topics. Members can search for posts, comment and like, direct message other members, and create their own posts.
Kajabi online Community FAQ
Can I Get notifications for my posts?
Yes, click on the small box at the bottom right before you submit your post, it should say "send a notification to all members"
Can you create polls?
No.
Can you schedule posts?
No, all posting is done live.
Can you post anonymously?
No, all posts will show the name of the person who made the post.
Can you charge admission or restrict access?
Yes, the Kajabi community feature is a product and so can be included in offers. This enables you to restrict access and collect payment.
Conclusion
The Kajabi community product may be a great fit for what you need. It doesn't have all the features or customization of something like a facebook group, but it is a clean and easy way for your members to engage and connect with each other and you. If you're curious about how it can help you get results with your clients and build your brand loyalty, then consider starting a 30 day free trial and test it out. As a Kajabi affiliate, I help people make the most of their trials with 3 great bonuses, it might be just what you are looking for.
If you are thinking that Kajabi might be a good tool for you to sell your online courses, host your website, and market to your audience, I have an in-depth article about what Kajabi is that may serve you.
JD
Kajabi Expert
Are You Interested in Kajabi
but now isn't the right time
Leave your name and email below and I will notify you when they run their next promotion.
We hate SPAM. We will never sell your information, for any reason.