Kajabi Affiliate Program
Oct 06, 2022
Kajabi is an all-in-one online course platform with an amazing affiliate program. I am one of their affiliates and am going to give you an inside peak into the program. Kajabi calls members of their affiliate program 'partners', so in this article, partner and affiliate will be used interchangeably.
In this article I will cover:
What is the Kajabi affiliate program?

What are the benefits for partners?

How does the affiliate program work?

What are the requirements to become a partner?

What kind of support and resources are available to partners?

Some ways partners promote their affiliate links and some success stories from partners who are killing it in the program.

How to get started with the Kajabi affiliate program?
I hope you find what you are looking for! If you want to learn more about what Kajabi is, or Kajabi pricing and plans, you can check out those articles too.
What is the Kajabi Affiliate Program and what are its benefits?
The Kajabi affiliate program is a program where Kajabi users can become Kajabi partners and earn recurring revenue for promoting Kajabi. A Kajabi partner gets specific links that direct people to a Kajabi sign up page. When someone signs up to Kajabi using a link from a partner, that partner gets a 30% commission every time that person makes a payment to Kajabi.
What that means is if someone signs up and is on a monthly plan with Kajabi, the Kajabi partner will get a 30% commission each month. If someone signs up with an annual plan, then the Kajabi partner gets 30% of the annual payment each time it is collected by Kajabi.
As a stand alone business, or supplemental to your primary activities, this can be a great way to build passive income.
In addition to the monthly recurring revenue, you get access to tiered bonuses for reaching different levels of referrals. These bonuses range from Kajabi socks to additional $500 monthly payments. I use my Kajabi branded tumbler and AirPods every day.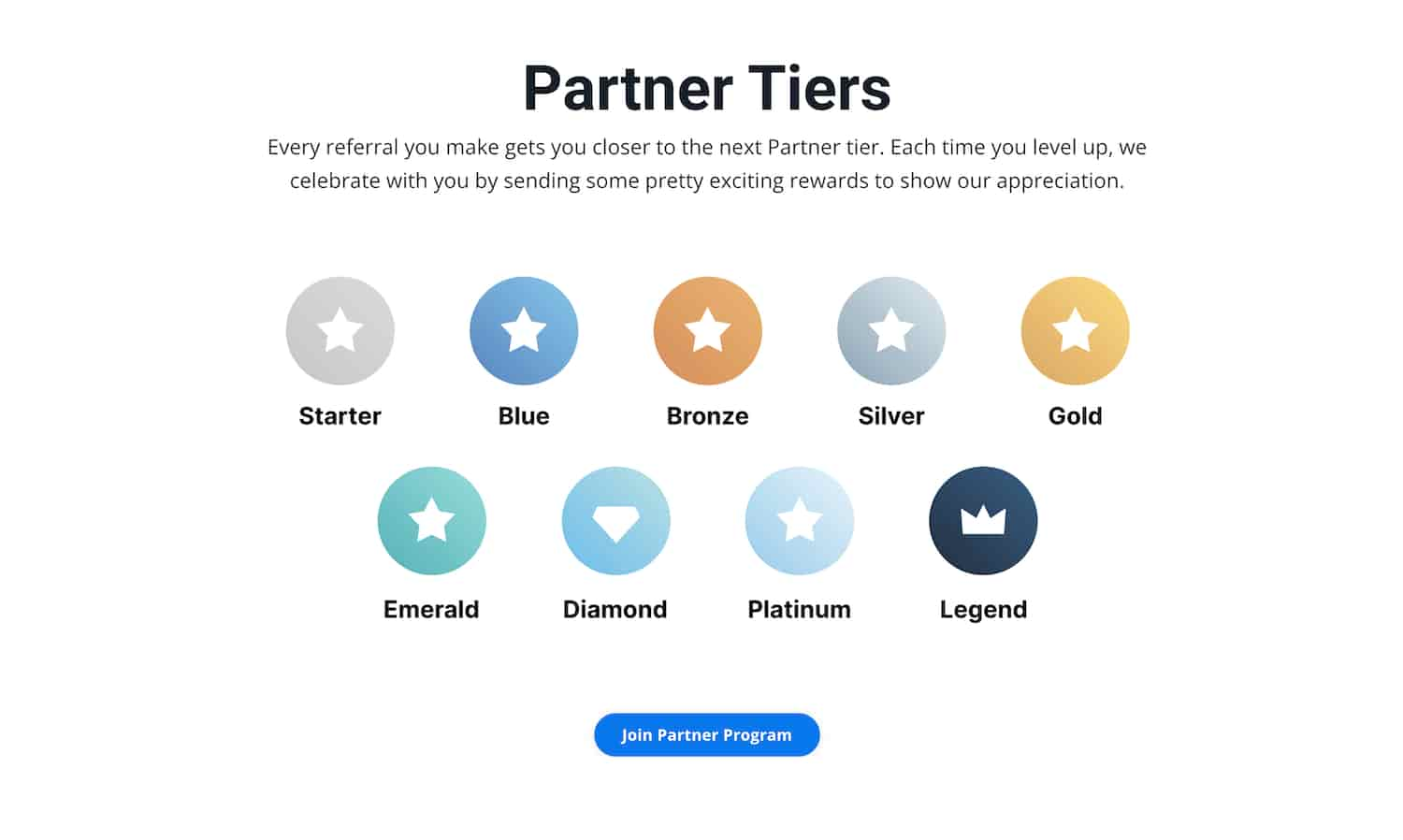 As a member of Kajabi's affiliate program you also get access to the Partner Community and exclusive events and trainings. Kajabi is a great company to be affiliated with, they love their partners and are actively engaged in the community and in improving their product.
How does the Kajabi Partner Program work and what are the requirements to become a partner?
To become a partner, you need to have an active Kajabi account and opt into the program through a simple application process. Kajabi wants all of their happy users to be affiliates, so this isn't the type of application that you get declined from, it is more of just a matter of procedure.
Kajabi affiliate payments are made via PayPal so you also need a PayPal account. There is a 2 month delay between when your referral pays Kajabi and when you get your commission payment. This is partly because Kajabi has a 30 day money back guarantee and they need to make sure they don't pay out for something they don't collect.
Kajabi Partner commissions are paid on the 25th of each month.
Once you are approved, you get access to the Kajabi partner dashboard. This is where all your stats are shown, your partner level, the leaderboard, and you can start new campaigns. A campaign is where your affiliate links are generated.
Kajabi has lots of different promotions throughout the year that all have a unique appeal. If you want to promote that promotion then you create a new campaign for it and can generate links to share.
You can set up a fulfillment email that will get sent to anyone who signs up to Kajabi through one of your links. This is your only method of reaching out to your referrals, so if you are offering them support or something else you start the process in the campaign by setting up a fulfillment email for a referral link in that campaign.
What support and resources are available to Kajabi Partners?
There are regular events with guest experts, exclusive training material, the Kajabi partner community, and graphics and swipe files for each campaign. In addition, Kajabi partners have access to all the same resources as normal Kajabi customers, including customer support and Kajabi's online course university.
How do Kajabi Partners promote their affiliate links?
There are many ways that partners can promote their links. I made a list below of some of the ways I see this being done:
Sharing about Kajabi on social media

Sharing you personal success story and how Kajabi has enabled you to take control of your income

Write about Kajabi in a blog (I like this one haha)

Offer extra bonuses of support or training material to your referrals (I also like this one)

Talk about Kajabi on YouTube

Promote Kajabi as a tool that their clients can use
All Kajabi partners get access to offer a 30-day free trial. This is quite a bit better than the 14-day free trial you can get from Kajabi's website. So that is a good incentive to draw attention to you as a partner as well.
As an example, my affiliate offer includes a 30-minute strategy meeting, 30 days of 1:1 Kajabi coaching, and two months of access to my support group.By offering this valuable content for free, I'm able to incentivize people to sign up through me instead of another Kajabi partner.
If you're looking to generate leads and sales for Kajabi, consider offering an affiliate incentive to your audience. By offering your audience an incentive to sign up through your link, you will set yourself apart from the other affiliates and hopefully generate more sales for Kajabi.
Kajabi Affiliate Success Stories
The partner dashboard has a leaderboard that displays the top ten affiliates for a specified time period, and several of these affiliates are legend partners with 200+ signups. Looking at the leaderboard right now while I'm writing this, there are 4 legend partners in the top ten for this week.
Based on the Kajabi bonus structure, these legend partners are earning $1,000 per month in bonuses, and around $9,000 per month from commissions.
The top preforming affiliates seem to be people who have existing businesses that teach people how to make money in their niche. These successful digital entrepreneurs leverage their success and audience to promote Kajabi as their platform of choice.
Kajabi partner program: How to apply
Getting started as a Kajabi partner is quick and easy. From the main Kajabi dashboard click on your name icon in the top right corner of the screen.
Then click on Partner Dashboard.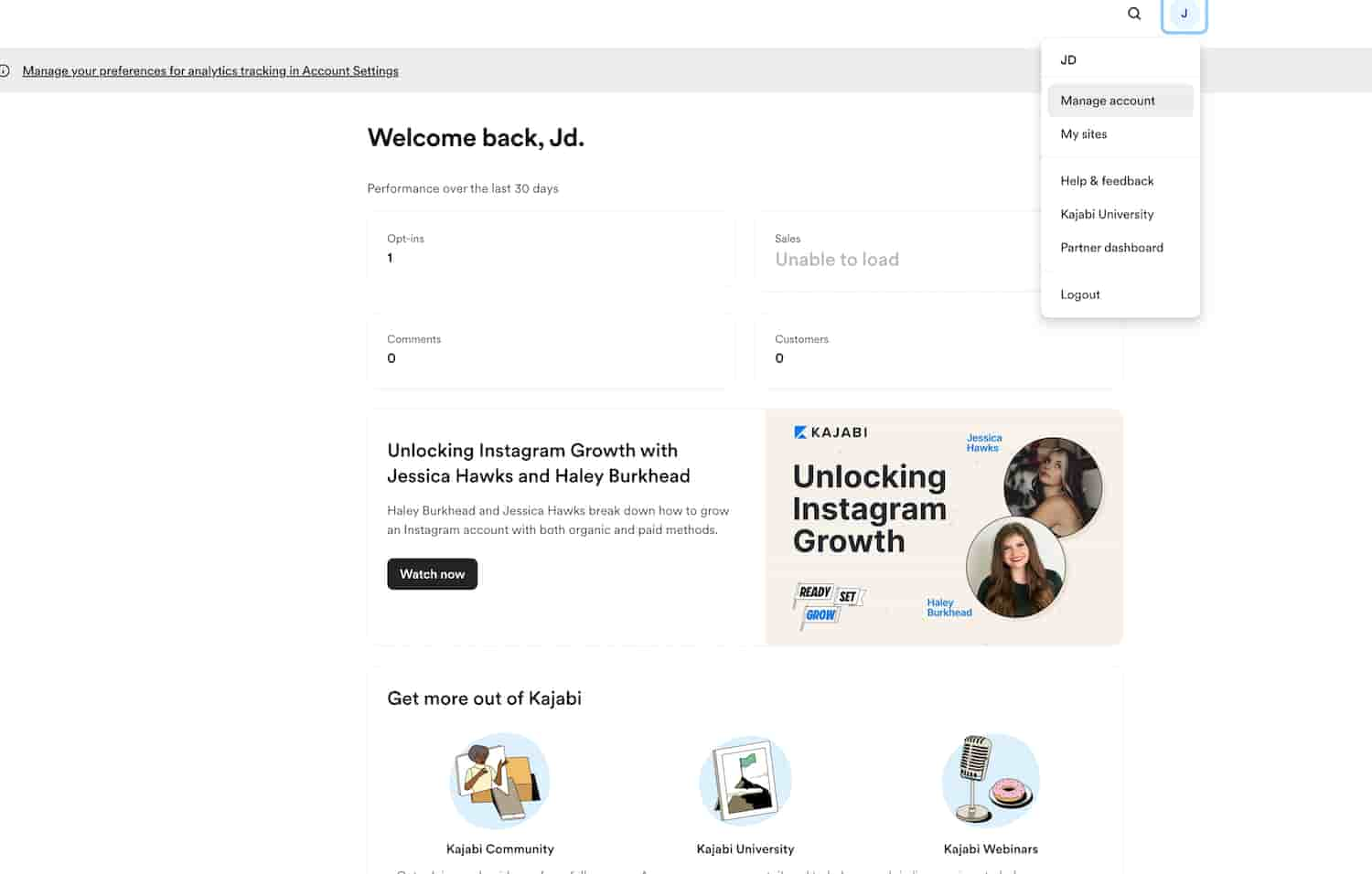 There is some basic information to submit and then your done!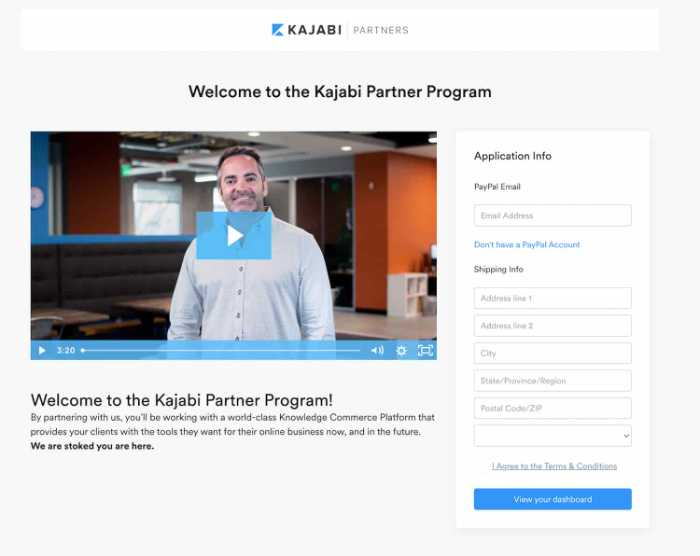 The application is quick and easy. Once you are done, you get full access to the partner dashboard and all the partner program resources.
Kajabi Affiliate Program: Final Thoughts
I am a big fan of Kajabi's affiliate program. It is the part of my business that I am most excited about and have the most fun with. From my experience, Kajabi is a great company to be partnered with and a great platform to run your business with.
If you feel like you have an audience that you would be able to promote Kajabi to, and there is something you can do to add value to your referrals, becoming a partner might be worth it for you. The 30% commission can really add up and turn into a substantial source of income.
JD
Kajabi Expert
Are You Interested in Kajabi
but now isn't the right time
Leave your name and email below and I will notify you when they run their next promotion.
We hate SPAM. We will never sell your information, for any reason.