Kajabi Payment Processing
Sep 21, 2022
Kajabi is a powerful online platform that allows entrepreneurs to create, market, and sell their courses and products online. To accept payments and process them on Kajabi, you'll need to set up payment a integration. In this blog post, we'll walk you through everything you need to know about setting up payment processing on Kajabi. When you're learning about payment integration here or elsewhere on the web, you might see it referred to as payment gateway instead of integration, if you do, just know that it is talking about connecting to a service that allows you to collect payments. Kajabi offers Stripe and PayPal as payment integrations, you can also connect to third-party payment services if you don't want to process payments through Kajabi.
We'll go over the pros and cons of each third-party payment gateway so that you can decide which is best for your business. Remember you have access to Kajabi's support team if you have further questions.
Third-Party Payment Gateway - Fee Comparison
Neither PayPal nor Stripe charges a monthly fee, all you will pay is the transaction fees on your sales. The standard transaction fee for PayPal is 2.9% + $0.30 per transaction. Coincidentally, Stripe charges the same base fee per transaction, 2.9% + $0.30. In both cases the payment amount doesn't impact the transaction fee. There is some variation for international transactions, currency conversions, and other services.
Kajabi doesn't charge transaction fees, so the only fees you are charged to process payments in Kajabi are from PayPal or Stripe.
Supported Payment Gateways - PayPal
PayPal was among the early trendsetters in peer to peer payments and online banking. It has grown massively to be supported in over 200 countries and supports 25 currencies. As a payment integration available in Kajabi, it can allow your clients to pay with their credit card, bank balance, or PayPal balance, depending on what your clients prefer and how they use PayPal.
Something that sets PayPal apart from Stripe is that when you sign up for it to start using it to collect payments, you are effectually signing up for an online bank account. Money you collect through the PayPal gateway will stay in your PayPal account and be able to be used in many ways. This is a significant feature that differentiates it from Stripe when considering which one to use for your Kajabi account.
Pros of using PayPal as a payment gateway:
Available in most countries.

Easy to set up and use.

Functions as a bank account and not just a payment processor.
Cons of using PayPal as a payment gateway:
The fee structure is complicated and may difficult to understand if you get charged a non-standard fee.

Doesn't offer as much analytics as Stripe.
Supported Payment Gateways-Stripe
Stripe is a very popular payment gateway and offers seamless integration with nearly every major software that takes payment. With Stripe, you're clients will only be able to pay with their credit card.
Stripe offers several features that can be beneficial for businesses besides processing payments. They have robust analytics and offer add-on services that may be a benefit to your business.
Pros of using Stripe as a payment gateway:
Accepts all major credit cards.

Has robust analytics.

Offers several add on features for large businesses.
Cons of using stripe as a payment gateway:
Acts only as a payment gateway and does not include a bank account.
How to set up a Third-Party Payment Gateway in Kajabi
Setting up a payment integration in your Kajabi site is easy to do. Go to the Payment integrations page in the settings are, and then follow the instructions on whichever one you choose. Kajabi has a great step by step guide for each option.
Once Stripe or PayPal are connected, go to the "offers" page, click on an offer and go to the "pricing" section, then and scroll down till you see PayPal or Stripe, click on whichever one you want to use. Then, when customers enter the checkout page to make a purchase they will be able to use whichever one you set up!
For more details see the pictured instructions below:
First off, Click on the "Settings" tab, in the bottom left-hand corner: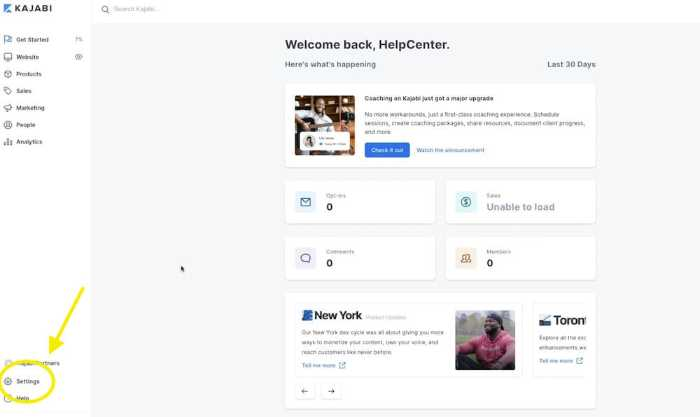 Then onto the "payment integration" page in settings: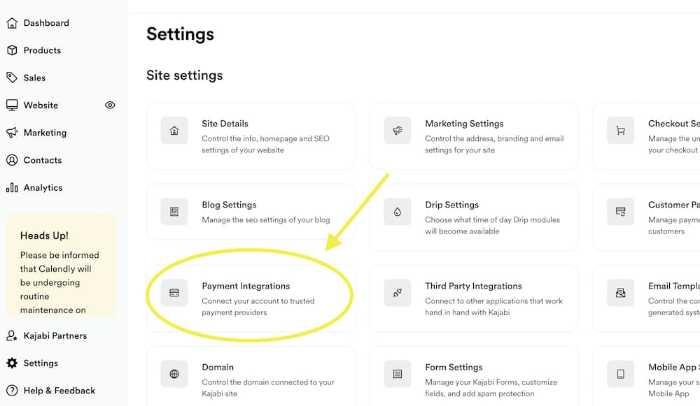 Once you get to the payment processing page, you can choose either Stripe or PayPal: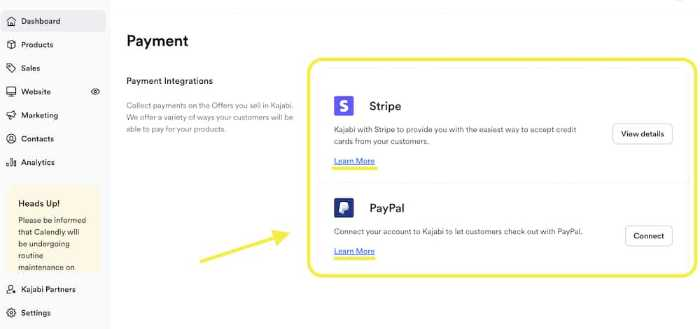 For Stripe:
You are going to have to connect an account, or create a new account if you do not have one already, then once you grant access to Stripe you will be able to process payments through them.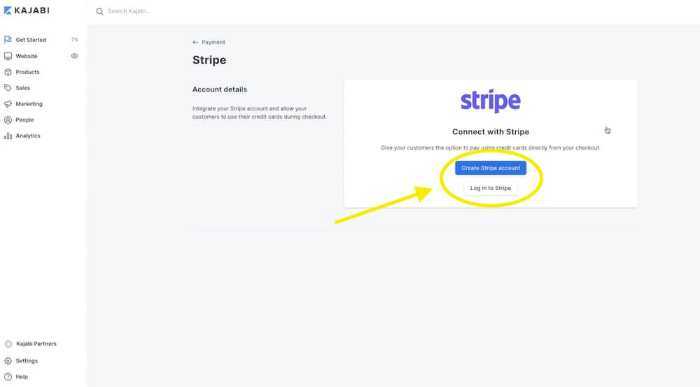 For PayPal:
You are going to need: your secret, your client, and your PayPal email in the required boxes.
Fill out all the required information and you're done. You can find your secret and your client in your PayPal account dashboard (click on "developer", and then click on your name, and then "dashboard").
Make sure in PayPal you set your account to live (instead of "sandbox") this is the most important part, you will not be able to access payments otherwise! Then click on "create app", and fill out your app name (Your business name). Once you created the app, then copy and paste your client ID and secret into your Kajabi account. Once you grant access, you can accept payments with PayPal.
To set an offer to either PayPal or Stripe:
Go to your offers page, click an offer and then in the submenu below the headline, click pricing and scroll down.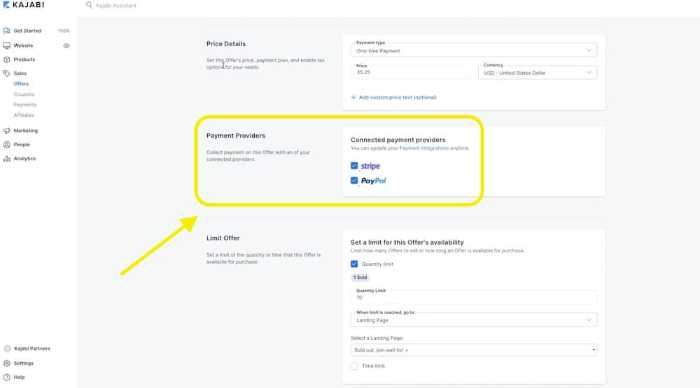 Now you are done setting up Stripe and PayPal!
If you have any questions click on the "learn more" links below the PayPal and Stripe tabs on the payment integration page and watch the step by step instructional video.
How to connect payment processors outside of Kajabi
Some entrepreneurs prefer to process payments outside of Kajabi, that is an option as well. People usually do this because the Stripe and PayPal integration with Kajabi can't process sales tax. When you use a third-party payment provider you have to connect that provider to Kajabi through a Zapier integration which can be more complicated.
Kajabi Payment Processing Summary
Payment processing on Kajabi is simple, it is the kind of thing you set up once and then don't have to worry about. Choosing between Stripe and PayPal doesn't have to be a difficult choice, both have a very similar cost structure and are reliable. You may want Stripe because it has great analytics or you may want PayPal because it comes along with an online bank account. You may want to connect both so that your customers have the ability to pay through PayPal if they want, or directly through their credit card (which would be Stripe). I hope this article has helped you get a better understanding about payment processing in Kajabi. If you've got questions about other topics, use the search bar in my blog and see if I have answers for you.
JD
Kajabi Expert
Are You Interested in Kajabi
but now isn't the right time
Leave your name and email below and I will notify you when they run their next promotion.
We hate SPAM. We will never sell your information, for any reason.